I received this mail from Chase recently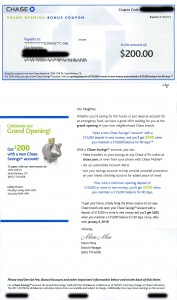 They previously offered just $150 for new customer accounts, are they getting more desperate?
Or perhaps just more discriminatory?  The small print on the back requires a minimum deposit of $15,000 and a minimum balance of $15,000 for 90 days, and the account must be open for 6 months.  Clearly they aren't looking for low-end customers.
To put their offer in perspective, if I ONLY created a new account and left my $15,000 in there for 90 days to get the $200, and then closed my account after 6 months, I would be receiving about a 2.5% return.  Meh.  I can do better.